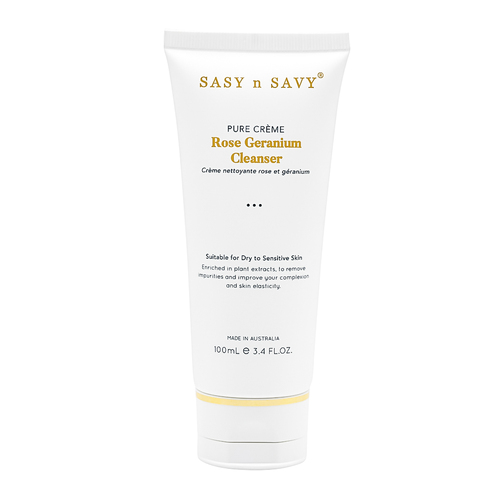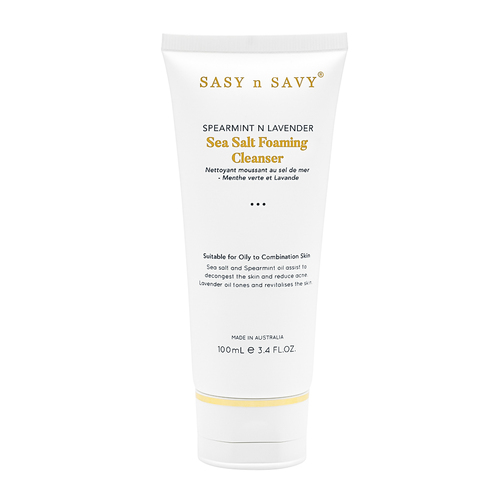 ---
Cleansers clean the first level of your skin on your face.
Our Cleansers consist :
* Pure Creme Rose Geranium Cleanser, ideal for dry to sensitive, Aging / Spots, Dark circles, Dermatitis, Dry Dull Rough skin, Eczema, Fine Line / Wrinkles, Itch, Loss of elasticity, Pigmentation, Psoriasis, Redness, Rosacea, Scares, Sunburn - Deeply cleanses and firms the skin to improve your skin elasticity and collagen. Making the skin look radiant and smooth. Enriched with Aloe vera, Macadamia oil, Glycine soja, Shea butter, Kakadu plum extract, Wild rosella, Vitamin E & Rose geranium oil.
* Spearmint n Lavender Sea Salt Foaming Cleanser, ideal for oily to combination skin, acne, black heads, large pores, loss of elasticity, oily skin, oily T Zone- Deeply cleanses, firms, tones and improves your skin elasticity, so you feel more radiant. Enriched with Witch hazel, Hydrolysed wheat protein, Sea salt, Aloe vera, Spearmint leaf oil & Lavender oil.
Sasy n Savy is proud to be Australian made and owned, vegan, non toxic and cruelty free certified. All our packaging is 100% recyclable. Sasy n Savy is proud to also be in partnership with TerraCycle.
Try our cleansers today!